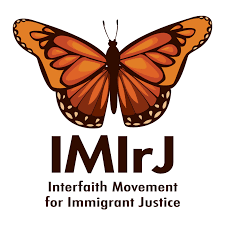 St. Michael's and the Interfaith Movement for Immigrant Justice (IMIrJ) invite you into new ways of being, loving, and acting together by engaging in immigrant justice and anti-racism work. Many people at St Michael's have expressed a desire for a space where they can talk about immigration injustice, racism and white supremacy, and engage in the work of dismantling these personally, in our communities and in the world.
Sacred Circles will provide accountability, direction and support for people of faith and fierce love as we collectively learn and live our way into courageous action for racial and immigrant justice. Small groups of 7-15 people will join together to provide each other with spiritual practice and grounding, relationship-building, education and shared action as we are called to walk together in the remarkable times in which we find ourselves. If this sounds like something you may be interested in, please click here for more details about the process.
IMIrJ will be offering trainings for co-hosts, who will connect individual Sacred Circles with IMIrJ. You do not have to have committed to be a co-host to attend the training. One training has passed, but the following time is available:
Individuals in each Sacred Circle will need to register their participation with IMIrJ using this form. This will help them better accompany your Circle, streamline communications, and facilitate cross-Circle collaboration within regions or denominations.
The IMIrJ email address is info@imirj.org. You can find them on Facebook here.